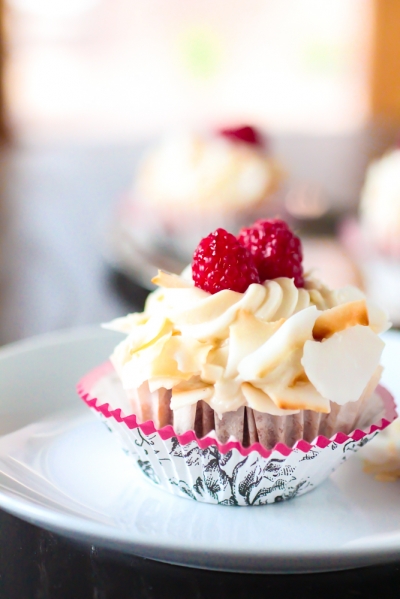 My little sister is getting married in a few months.  I'll spare you the (eventual and inevitable) blubbering and tears of joy for now (still have a few months left, and if I start now, I won't ever stop).  But what I will tell you is that I'm thinking a lot about parties: bridal showers and bachelorette parties in particular.
A long time ago, when I was making cupcakes with a much higher frequency than I am now, I came across this cupcake book in the sale bin at the Barnes and Nobles on the IUPUI campus.  Now, granted, my friend Ryan and I were supposed to be either going to somewhere or coming back from somewhere (it was right in the middle of a super busy work day), but we decided to stop in at the (then brand new) campus center and check it all out.  We spent probably way more time than was reasonably allowed (oh well, we both graduated residency in the end so it didn't really matter).
When I saw this book, I flipped right to the page with the Frou Frou cupcakes and immediately thought of my little sister.  For whatever reason, I was reminded of her.  Cute, pink, fluffy, and extremely aesthetically pleasing.  I guess.  (Right, Sam?)  Anyways, I was intrigued by what this "Frou Frou" meant….basically a fancy-pants, elaborate combination of raspberries and coconut.  AKA a delicious concoction with an even cuter name.
Eventually, for whatever reason, the cupcakes went un-baked, and time went on.  A few weeks ago, while I was thinking about Sammy's upcoming bridal shower, I remembered these cupcakes.   I decided to make a small batch as a sort of dress rehearsal for her upcoming wedding festivities.  Well, they passed the test.
You can't go wrong here.  And, if you want, you can switch up the flavor combination as well.  There is no coconut flavoring in the cupcake base, so you could throw in whatever kind of frozen fruit you want.  Or some sort of chocolate/chopped nut kind of combination (I'm thinking along the lines of an Almond Joy cupcake.)  This recipe is a keeper.  And I think I'll be back to making a lot more cupcakes.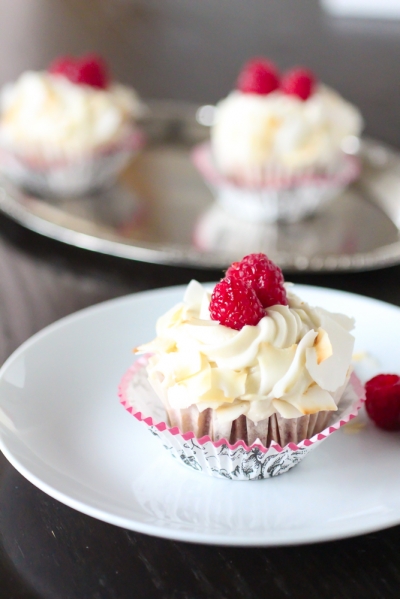 Frou Frou Cupcakes
Servings: 12 cupcakes
Ingredients
For the cupcakes:
8 tablespoons (1 stick) unsalted butter, at room temperature
1 cup sugar
3 eggs
1/2 cup all-purpose flour
1/4 cup self-rising flour
1/2 cup unsweetened flaked coconut
1/3 cup nonfat Greek yogurt
5 ounces frozen raspberries
For the frosting:
5 tablespoons unsalted butter, at room temperature
12 ounces cream cheese, at room temperature
2 teaspoons coconut extract
3 cups powdered sugar
For garnish:
1 cup unsweetened flaked coconut, toasted
Fresh raspberries
Instructions
1. For the cupcakes: Preheat the oven to 350 degrees.  Line a cupcake pan with the liners of your choice.
2. In the bowl of your standing mixer fitted with the paddle attachment, beat the butter, sugar and eggs on medium-high speed until light and fluffy, about 2-3 minutes.
3. Reduce the mixer speed to low and carefully add both of the flours, coconut, Greek yogurt, and frozen raspberries.
4. Divide the batter evenly among your prepared baking cup and bake until a tester inserted into the center comes out clean,. about 30 minutes or so.  (Check them frequently-mine were done about 10 minutes before the stated baking time of 40 minutes.)  Cool the cupcakes before frosting.
5. For the frosting:  In another bowl (or in your cleaned standing mixer bowl), beat together the butter, cream cheese, and coconut extract until smooth, about 2 minutes.
6.  Reduce the mixer speed to low and carefully add in the powdered sugar, mixing until thoroughly combined and smooth.
7.  Once the cupcakes have cooled, pipe frosting as desired.   Gently press or roll the cupcakes in the toasted coconut.  Top with fresh raspberries. Enjoy.
Source:  Barely adapted from Cupcakes by Pamela Clark.